"An endless journey, with no heroes or villains, no monsters or gods. Just life. In the gutter, not the stars."
"hugely effective and at times very funny indeed"
Encolpius, Ascyltos and Giton are three young men footloose in the Roman Empire. With long-dead Gaius Petronius as the narrator and a cantankerous group of twenty-first Actors bringing to life everyone they meet, the trio find themselves at the heart of adventures of seduction, deception, love, thievery, violence and more.
Step back into the past while keeping one foot in the present as you enter this comedy of words and action – a picaresque tale that is funny and thought-provoking, uncomfortable and tragic, satiric and satyric. Sexual relations from the Roman perspective and the Roman perspective from today. All this and more in the fast and funny, filthy and philosophical play that is The Satyricon.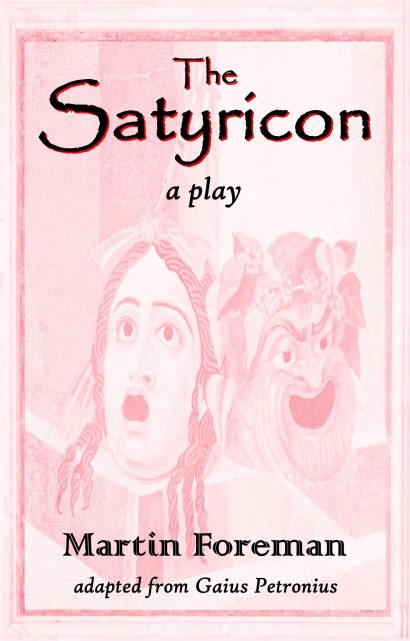 The multi-layered script begins in the modern theatre as Petronius introduces himself, the three "we can't call them heroes" and the Actors. It then shifts to a first century Forum where Encolpius is lecturing a boisterous crowd on education. From then on the audience is on a roller-coaster ride, one moment laughing at the absurdity of the story, the next moment shocked by what they see. Encolpius suddenly find himself bereft of what matters most to him in the world, gods appear, friends and lovers quarrel and part, Petronius cannot remember if he wrote all the scenes he is watching, and all along the actors comment on what they portray.
A version of the script was produced at the Assembly Roxy, Edinburgh, in October 2022. For details of Petronius' original story and more information about the play see thesatyricon.uk.
9+ actors (m/f/n, 16 – 80 with doubling)                run time: 2h 15m      ISBN: 978-0-9933546-6-3               soft cover, 136 pages
RRP: £10.99 UK post-free   (other countries: contact us)