previously Tadzio Speaks . . . 

"I began to feel I possessed him. I recognised his clothes, how recently he had shaved, the books and newspapers he read, the food he preferred."

In Thomas Mann's novella Death in Venice, memorably filmed by Luchino Visconti, the ageing Gustav von Aschenbach becomes obsessed with the beauty of a boy he sees on the beach, fourteen-year-old Tadzio. Although the two never speak, a silent relationship grows between them, a relationship which binds the older man inexorably to Venice even as his health fails and the city is beset by cholera.

Death in Venice is a modern classic, a discourse on beauty that can be interpreted on many levels – from art to philosophy, from age to eros – interpretations that inevitably change as each new generation imposes its own perspective on the attraction of youth and beauty for the old and undesired.

In this masterful retelling of the story, we meet Tadzio decades later as he remembers that fateful summer. What went through the boy's mind when he realised what was happening? Did he welcome or resent Aschenbach's gaze? What impact did it have on his adult life? Finally, Tadzio Speaks . . .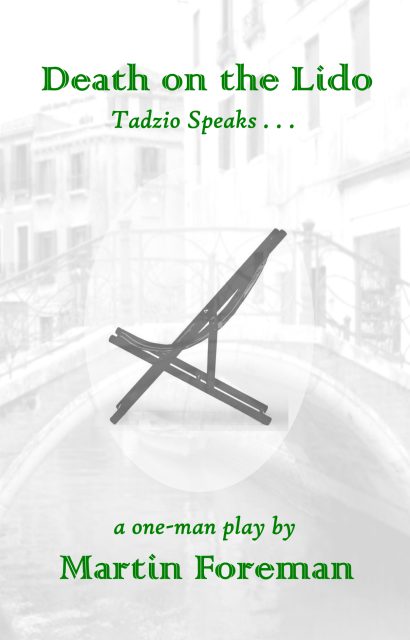 Originally published as Tadzio Speaks . . . this revised version includes background material on Mann and the "real" Tadzio, Martin Foreman's short story A Sense of Loss on which the play was based, and an afterword on contemporary and early twentieth-century attitudes towards Aschenbach's and Tadzio's mental states.
one male actor (50+)                running time app 45 mins             ISBN: 978-0-9933546-1-8               soft cover, 52 pages
£8.99 UK post-free  (other countries: contact us)